Gavox Aurora Pilot Watch
From our higher collection
"The world's first multifunctional quartz watch that can track two time zones"
The culmination of 3 years of research and innovation Gavox is proud to present the world's first multifunctional quartz watch that can track two time zones: Aurora.
As much as 20% of the world's population lives in non-standard time zones.
To cater to the needs of every watch enthusiast and dreamer, as well as hold its own as a pilot watch in this timeless industry, the Aurora keeps track of a reference time and display a local time by increments of 15 minutes – To handle non-standard time zones with a difference of 15, 30 or 45 minutes.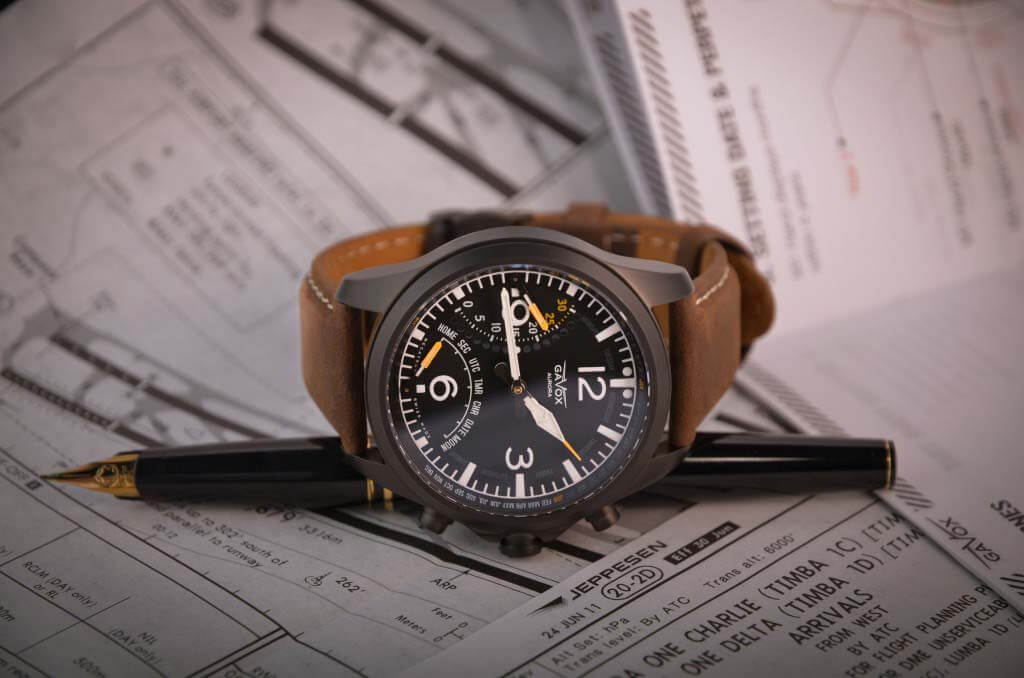 A Watch For Pilots. By Pilots.
Boasting a design based off feedback from professional flyers, Aurora is a true pilot's watch.
With navigational features such as fly-back mission timer, countdown and complete with moon phase and perpetual calendar, the Aurora is ideal for the novice pilot as well as seasoned masters of the skies.
The dial takes resemblance of aviation instruments to allow a quick read of uncluttered information. With all functions displayed in semi-circles, this prevents the hands from overlapping and hiding critical information.
Handsome and Hardy
Forged in surgical stainless steel, the case can be immersed to a static depth of 100 meters and is fitted with an anti-glare crystal that only diamond can scratch.
A Pilot Watch that is Second to None
Simply put: The Aurora is an analogue watch with digital functionality.
Any country. Any time zone. Any environment – land or sky, the Aurora is the true 'smart watch.'
As a feature-packed watch with moon phase indicator, perpetual calendar and a 31-hour chronograph, Aurora challenges you to engage with time. Grapple with it and see it eye to eye, unblinking.
With the Aurora, take control of time…wherever the skies take you. Your Aurora is waiting for you here.
Technical Specifications :
Measurements Ø 43 x 50.5 x 12 mm
Measure between lugs 22mm
Autonomy between 4 to 7 years depending on mode usage
Analog watch with 4 hands (1 for the mode, 3 for the information).
Day and night visibility thanks to luminous hands and markings. Swiss Superluminova DGW9.
UTC time reference, and local time by increments of 15 minutes.
Countdown from up to 31 hours, with visual alarm.
Mission chronograph to 31 hours, with split and flyback features.
Perpetual calendar with simultaneous indication of date, day, month and leap year.
Moon phase.
Surgical 316L stainless steel, highly impervious to salt and sweat.
Scratch-resistant sapphire crystal with inner anti-reflection coating.
Water-resistance to pressure of 10 ATM (333 ft).
Serial number.

Personal message from Gavox founder – Michael Happé
"I am proud to unveil this Gavox Aurora. I have been working very hard to combine design, technology and ergonomy. I trust you will appreciate the details & ingenuity that make this watch a world first."
Reviews of this watch: