Gavox Roads
Gavox Roads is a limited collection of watches made to travel on the most scenic roads.
This first issue, we selected 3 roads that would fit these 3 designs
Each watch comes with a road book (list of the milestones on that road)
and a surgical Stainless-Steel Bracelet.
I created a facebook group to share your experience : GAVOX ROOM on FaceBook
_______________________________________________________________________________________________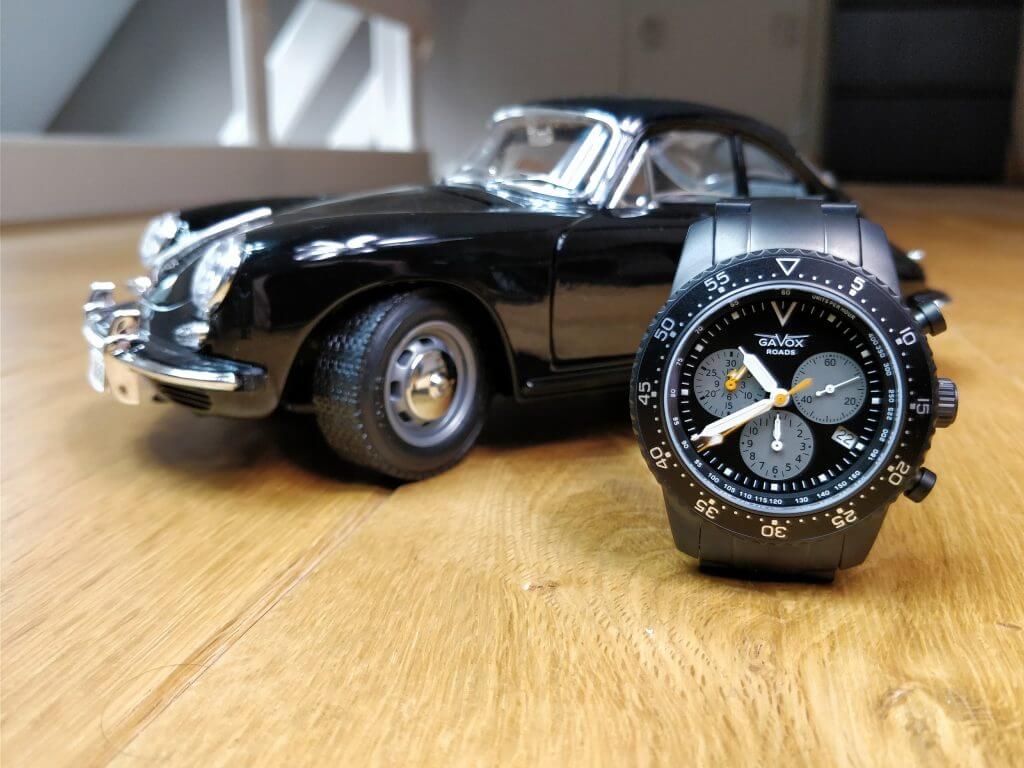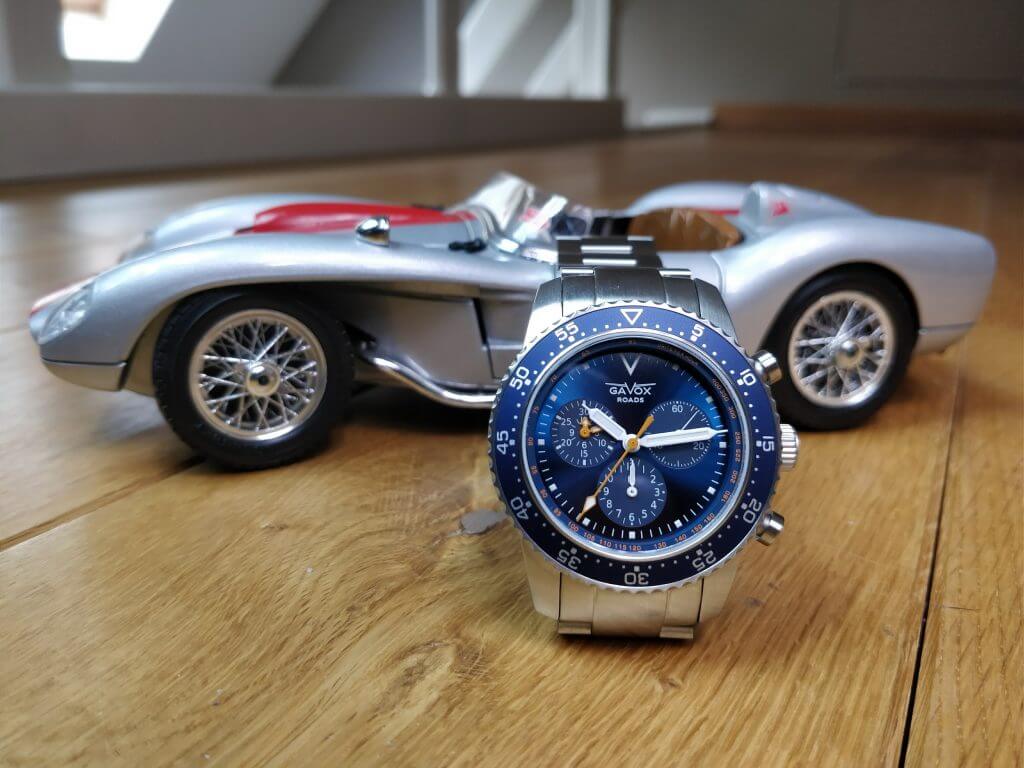 Review from Wornandwound :
Gavox founder Michael Happé is the grandson of a Flying Tiger. I'm no war or aviation buff, but even I knew this one. Who could forget the shark's mouth painted on their P-40 War Hawks or legends of the Hell's Angels squadron angling in on Japan just after the bombing of Pearl Harbor?
Happé is obviously no stranger to the power of combining visually striking machines with compelling adventure narratives, but he goes beyond the tired military combinations with Gavox and innovates playfully. He makes neologisms from parts of other words (e.g. Avidiver from aviation and diver; Gavox from galaxy and vox), and offers watches with genuinely novel complication combos (e.g. a flyback with perpetual calendar on the Gavox Aurora). Gavox watches are unabashedly complicated machines, and the more I learn about them, the more I grasp their endearingly geeky logic.
THE TRIO.
Gavox's latest offering is a driving-oriented trio of limited edition chronographs called Roads. While most car watches either look like a speedometer or are geared to time high-speed laps à la Paul Newman and Steve McQueen, the Roads is specifically oriented towards long distance road trips. Along with the individual serial numbers (100 of each model are available), the case backs of the three editions include an engraving of a specific road: The Pacific Coast Highway in California, The Atlantic Ocean Road in Norway, and The Icefields Parkway in Alberta, Canada—all roads so incredibly beautiful that the last thing you'd want to do there is speed. Each edition of the Gavox Roads comes with a Road Book that lists all the places to see along the route, suggesting these watches as wonderful gifts or mementos for anyone involved in such a trip.
Editor's note: the watches featured here are prototypes. The white-dialed Roads has mismatched pushers.
Review: Gavox Roads Chronograph Collection
MOVEMENT Ronda 5130D quartz with alarm function
DIAL Black, blue (sunburst), and white
STRAP Matching bracelet and leather
Most tool watch categories give us only vicarious access to the adventures for which they were created. I'll never pilot a fighter jet or drive a train, but I do drive cars and trucks all the time. In fact, I adore long distance driving through gorgeous scenery. Yes, GPS, smartphones, and smartwatches have made most watches into anachronisms, but if, like me, you enjoy going device-free in order to taste the sweet autonomy of an old-school road trip, then using the Gavox Roads takes us beyond make-believe and into utility. In a conversation with Happé, he mentioned setting the Roads' alarm as a reminder to take a rest or to spell a fellow driver, and I instantly got stoked about a couple upcoming road trips.
The Ronda 5130D movement is a quartz unit with an elaborate feature set. The chronograph counts seconds on the central hand, while a two-hand totalizer racks up 30 minutes and 12 hours on the sub-dial at 9. At 3 are the running seconds, and down at 6 is another two-hand sub-dial for setting the alarm. We've also got a date display, a 60-minute timing bezel, and a tachometer scale. Getting around all those features is a little tricky at first, but once you do it a couple times it's pretty intuitive. For those curious about how to operate this movement, Michael Happé himself shows us in the video below. (Note that the watch in the video is not the Roads).
One downside to the Ronda 5130D is that if you've run the chronometer past one minute and then reset it, the totalizers spin for as long as 21 seconds in order to return to zero. This doesn't preclude lap timing, however, as one can employ what I'll call the rattrapante fantôme or, less pretentiously in English, phantom split-seconds. A true rattrapante has two seconds hands, one that can be stopped for a reading and another that keeps tracking elapsed time; when you release the stopped hand, it "catches up" to the running hands. On the Ronda 5130D you can do this with just one set of hands. You stop the chrono, take a reading, and then send the hands racing forward to catch up to the actual, but invisible, elapsed time. Voilà: rattrapante fantôme.
Typically I'd balk at the rectangular date window at 4 o'clock, but I've actually lost track of the date on road trips and appreciate it in this context. Further, on a watch that's chockablock with functions, sealing the date wheel behind the dial would be out of whack. That date window reminds me of a spare tire bolted to the hood of an old Land Rover, which is strategically, if a little awkwardly, located to maximize functionality and storage space.
Legibility is a slightly reduced on two of the three editions of the Roads. The white syringe hands of the Icefields Roadway disappear against the white dial, and the Pacific Coast Highway edition's black numerals are hard to read against the gray sub-dials. I have to concede that the overall aesthetic of these two watches is solid, and the legibility requirements of a scenic road trip are far mellower than, say, a P-40 War Hawk mission. The Atlantic Ocean Road edition, however, has superb legibility; its shimmery, deep aqua blue dial perfectly complements the orange and white hands.
The chamfered, uni-directional 60-minute rotating bezels keeps the Roads from being just another Daytona or Speedmaster homage. One may wonder why a car watch doesn't feature a tachymeter scale on the bezel, but even here we find a consistent logic at work, as a fixed tachy bezel would mean fewer functions and a played-out configuration that emphasizes high-speed track driving rather than touring through gorgeous scenery.
But don't imagine for a moment that Gavox would forego a tachymeter scale. It sits atop a very tall and narrow chapter ring—an unusual but smart solution. While my eyes struggle a bit to make it out, it's far easier to see than if it were lurking in the shadows of the dial's edge, which is common on many chronographs. Admittedly, the tachymeter is probably the least used function on any chronograph today, so relegating it to a somewhat obscure location follows the road-tripping logic of this watch.
At 41mm across with a 51mm lug-span, the Roads should fit a lot of folks. The long lugs make a graceful arc downward and hug the wrist, and they look great doing it. You get both a 316L brushed steel Oyster-style bracelet and a leather strap with dimples across the back to help manage perspiration. One may have expected a fully perforated "rally strap," but, as should be clear by now, the Roads isn't trying to fit in with the Autodromo Stringback gloves you sport when floating your vintage Porsche 911 through a tight corner. Spring bars are screwed in through the drilled lugs, a nice solution for the capricious strap-swappers among us.
While using the Roads, I began to experience nostalgia for the digital watches of my younger years. I'm remembering the nerdy button-pushing I would entertain myself with during boring history lectures, but it is the months I spent driving all over the US in a VW van back in the early '90s that come surging back to me as I fiddle with the Roads. Leaving my mechanical watches safe at home, I wore a decidedly unhip LL Bean Casio with alarm, stop watch, and strap-mounted compass—all of which I actually used. Yes, minimalist mechanical watches are more hip, but maxed-out quartz watches have their nostalgic charms, too.
I wish there were more watches dedicated to road trips. Loading up the Family Truckster for some quality tarmac time may not be as adventurous as piloting a P-40 fighter over Japan or traversing Antarctica in a sled, but the fact that road trips are missions we average folks actually accomplish makes the Gavox Roads a compelling proposition. In the end, our personal world-roving ought to be more poignant than living vicariously through someone else's adventure, and the Gavox Roads is a great reminder to get out there, drive around, and see what happens. Gavox